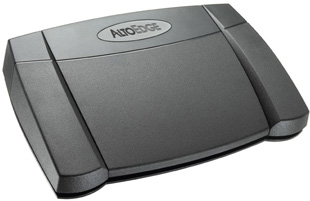 I had a question recently about transcribing digital recordings. The question was about the difficulty in using a digital recording to make a transcription of the interview.
Have no fear! It
is
possible to use a foot pedal on your computer, to advance and rewind a digital wav or mp3 file. There are several on the market. Just do a Google search for "USB transcription foot pedal" and you'll get a lot of options. I have yet to try this out, but I'm itching to do so, and when I do, I'll update the blog and let people know how it works out.
You have to buy a foot pedal, but you can get the basic transcription software for free.
Express Scribe Transcription Playback Software
is one example, which is a totally free download designed to assist the transcription of audio recordings. It is installed on the typist's computer and can be controlled using a transcription foot pedal or using the keyboard. This computer transcriber application also offers valuable features for typists including variable speed playback, multi-channel control, file management and more.